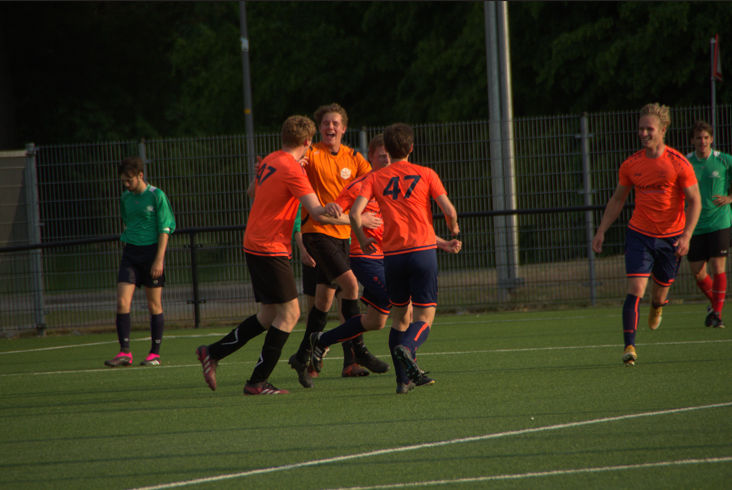 Stress plays football! IVC 7v7
By Ivo Naastepad
In the vibrant mosaic of our university journey, where lectures and deadlines interlace our days, our study association embarked on a compelling odyssey marked by camaraderie and spirited competition. In recent months, Stress actively participated in the IVC—a 7v7 football tournament that became the crucible of our shared highs and lows.
Wielding the captain's armband, my responsibilities extended beyond the pitch, encompassing the orchestration of matches and meticulous player coordination. Although my prowess as a footballer may be modest, the collective brilliance of my teammates has consistently shone through. Together, we navigated the nuances of the starting formation, sculpting our strategy with a shared vision.
The initial matches of the module were nothing short of triumphs, with back-to-back 4-0 victories fostering an exuberant team spirit. The scent of promotion lingered as we amassed six points, and our games were marked by robust attendance, ensuring a surplus of substitutes. Post-match, jubilation echoed in the sports canteen as we reveled in our victories.
Despite our promising start, the dream of promotion eluded us. Narrow defeats, often by a solitary goal or two, relegated us to a third-place finish in the group. While the sting of this setback lingers, our pride remains intact. Stress, a relative newcomer to the competition, exhibited remarkable team development throughout the module. An absence of formal training sessions underscored our achievement, and the quality of football showcased in the latter stages is a testament to our collective prowess.
The horizon holds promise, with the next module offering a fresh opportunity to ascend. Undeterred, we set our sights on future triumphs and the prospect of promotion. For those eager to join our ranks in the upcoming module, a simple email to internal@stress.utwente.com is all it takes. It's an opportunity to partake in an enriching experience, entirely free, and where you have the autonomy to choose your preferred match. We welcome all enthusiasts to be a part of our journey as we march forward with determination and resilience.