Board 2023-2024 "Driving Ambition"
Ramon Groenewoud
Chairman, Vice-Commissioner of External Affairs and Commissioner of SBZ
My name is Ramon Groenewoud and I'm 19 years old. I'm originally from Amersfoort which is a city in the center of the Netherlands. Two years ago I moved to Enschede to pursue the study IBA. After two successful years of studying IBA I will take a break from the books to be in the Board of Stress. My primary function is Chairman, therefore my main task is leading the Board and fostering its effectiveness. I will also help Mika as Vice-Commissioner of External Affairs and ensure that our drinking room is in good condition as I am Commissioner of SBZ.
My Career at stress started half way through my first year. I realised only then the amount of amazing people at the association and thus started to join more events. Along the way I figured out that this was the path I wanted to take during my studies, so I applied for a committee. During my time in the KIDS Committee it became clear that a Board year would actually suit my goals and ambitions, thus I decided to go for it.
In my spare time I am often doing sports or hanging out with friends. I have now already been playing tennis for over 12 years but that has become a bit less over time. One of the reasons is that I started Wakeboarding at Rutbeek with Hardboard, the surf association. And at the time of writing this I am actually also training for a half marathon. I'm really looking forward to the coming year and hope to see lots of you at events and in the Stress room!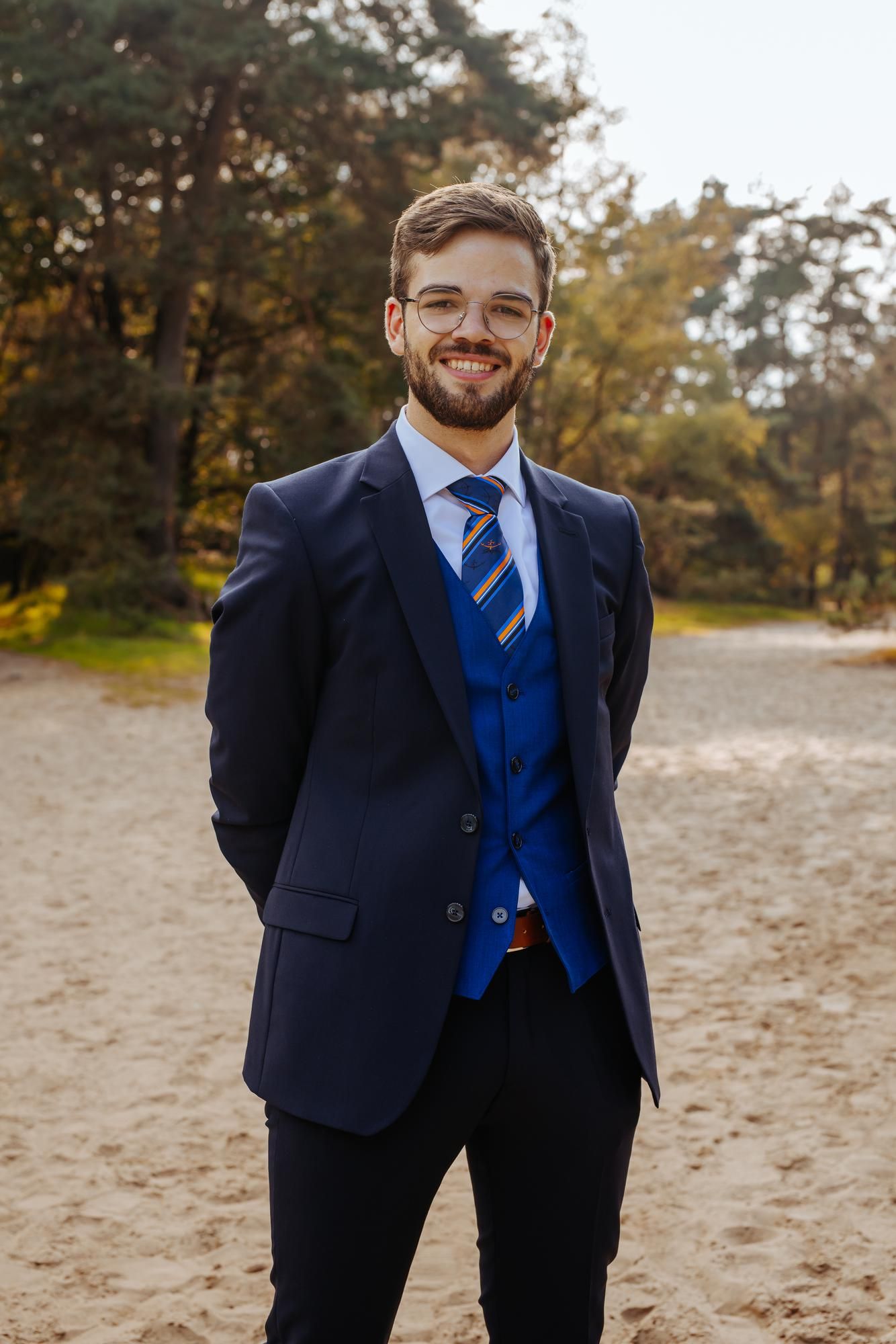 Tijn Kooi
Secretary, Commissioner of Internal Affairs, Vice-Chairman and Commissioner of Alumni Relations
My name is Tijn Kooi and I am 21 years old. I have finished the second year of IBA. I originally come from Culemborg but grew up in multiple countries and cities. From Culemborg the journey led me to Stockholm, Sweden. From there I went to Düsseldorf, Germany before going further south to finish my school years in Spain, Madrid. Then for university I came back to the Netherlands and have now created a very fond relationship with the region of Twente!
At Stress the calling for cheap food at the freshmen barbecue signalled the start of being active. The first year I was part of the Freshmen Committee in which we had amazing times and created friendships for a lifetime. We organised a very successful parents day next to other amazing activities in which freshmen all got to know each other. Our last activity was the freshmen barbecue for the new wave of students. Last year I was part of the Lustrum Committee which has many events planned for the upcoming year that you would not want to miss out on as these days will be golden.
Next to studying I have always played football which I continue to do at VV Drienerlo as well as with Stress in the internal competition and the Staf tournament which we won last year! Over the years I have played everywhere but have now found my position as striker or goalkeeper depending on whether another goalkeeper is present. In the world of sports I follow the big cycling races such as the Tour de France which I been to live on multiple occasions and of course the best club in the Netherlands, FC Utrecht. I do more than just watch sports though, I love to hang out with friends and play some games. I have been called the 4-in-a-row champion before so if you feel like you are up for the challenge I am in the Stress room ready to play!
The upcoming year I am proud to call myself a board member of this beautiful association, together with my fellow board members we will give our all and aim to give all members unforgettable times. We will enjoy the coming year with all of you!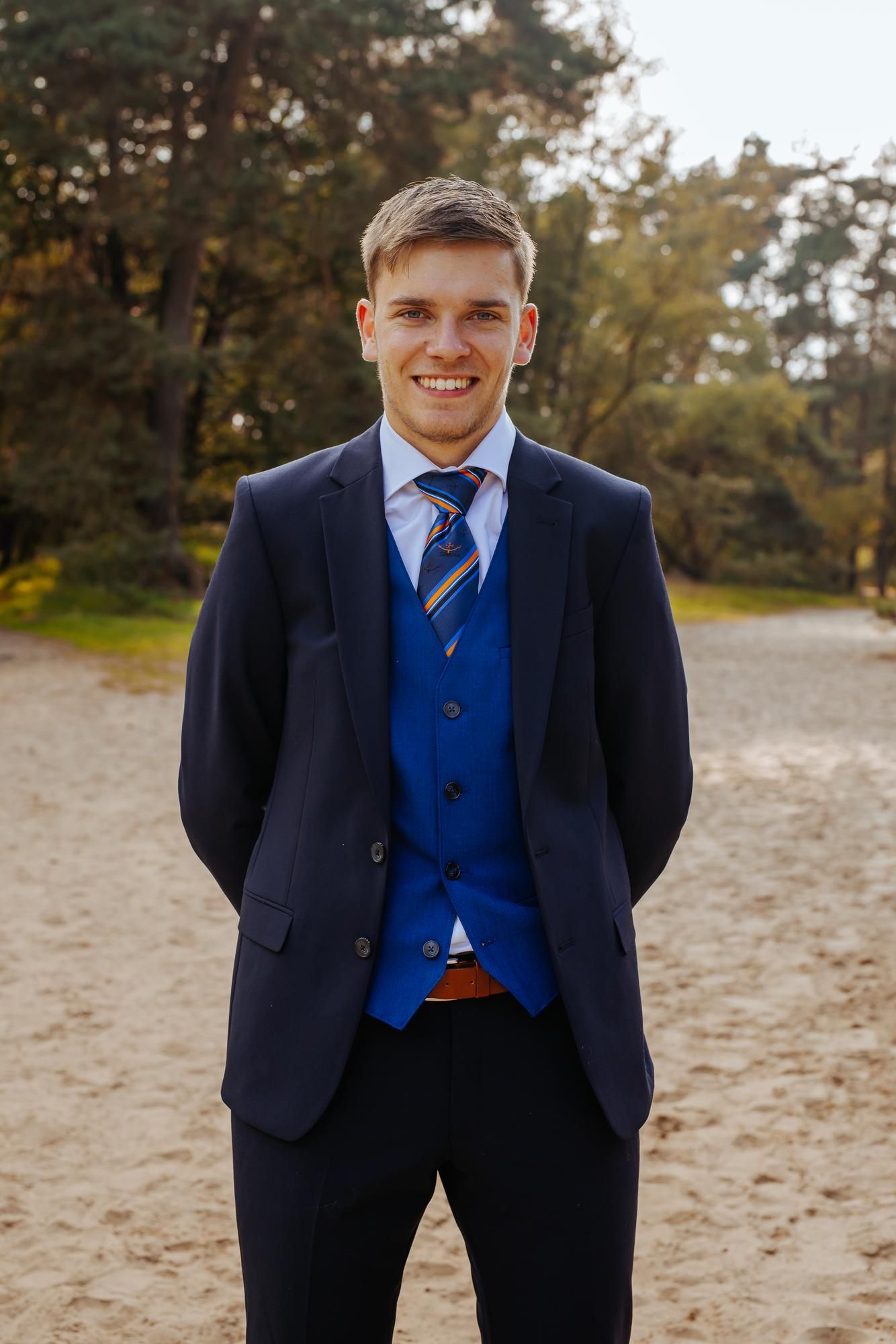 Anne Hoogeveen
Treasurer, Vice-Commissioner of Internal Affairs and Vice-Commissioner of Educational Affairs
Hi everyone! My name is Anne and I am very happy to be a part of the 49th board of Stress as treasurer, vice commissioner of educational affairs and vice commissioner of internal affairs. For the first seventeen years of my life I have lived in Hilversum together with my parents and sister. I am now 19 years old and have been living in Enschede together with my wonderful housemates from the start of my studies. I have studied IEM for two years and will now take a break from studying to support our beautiful association by doing a board year.
In my first year I joined Stress as part of the Freshmen Committee and met a lot of amazing people. In my second year I joined a bigger and more serious committee and was part of the Kick-In Delegation of Stress (KIDS), where we were responsible for the study-related part of the kick-in. I wanted to further develop myself and during all the committee meetings, fun events and chilling in the Stress-room, I simply fell in love with the association and wanted to give something back by doing a board year.
In my free time I like having fun with friends, reading, which I definitely don't do enough anymore, cooking and enjoying good food and travelling. Next to that I am a part of damesdispuut STER where we have weekly drinks in the San Remo and a lot of other fun activities. When I find the time you can also find me playing some table tennis at Tuesday night. I have fanatically played table tennis since I was six, but when I started studying I stopped playing as often, but I still like to play whenever I find the time.
I am really looking forward to all the amazing events that will be hosted this lustrum year and excited to see many of you join!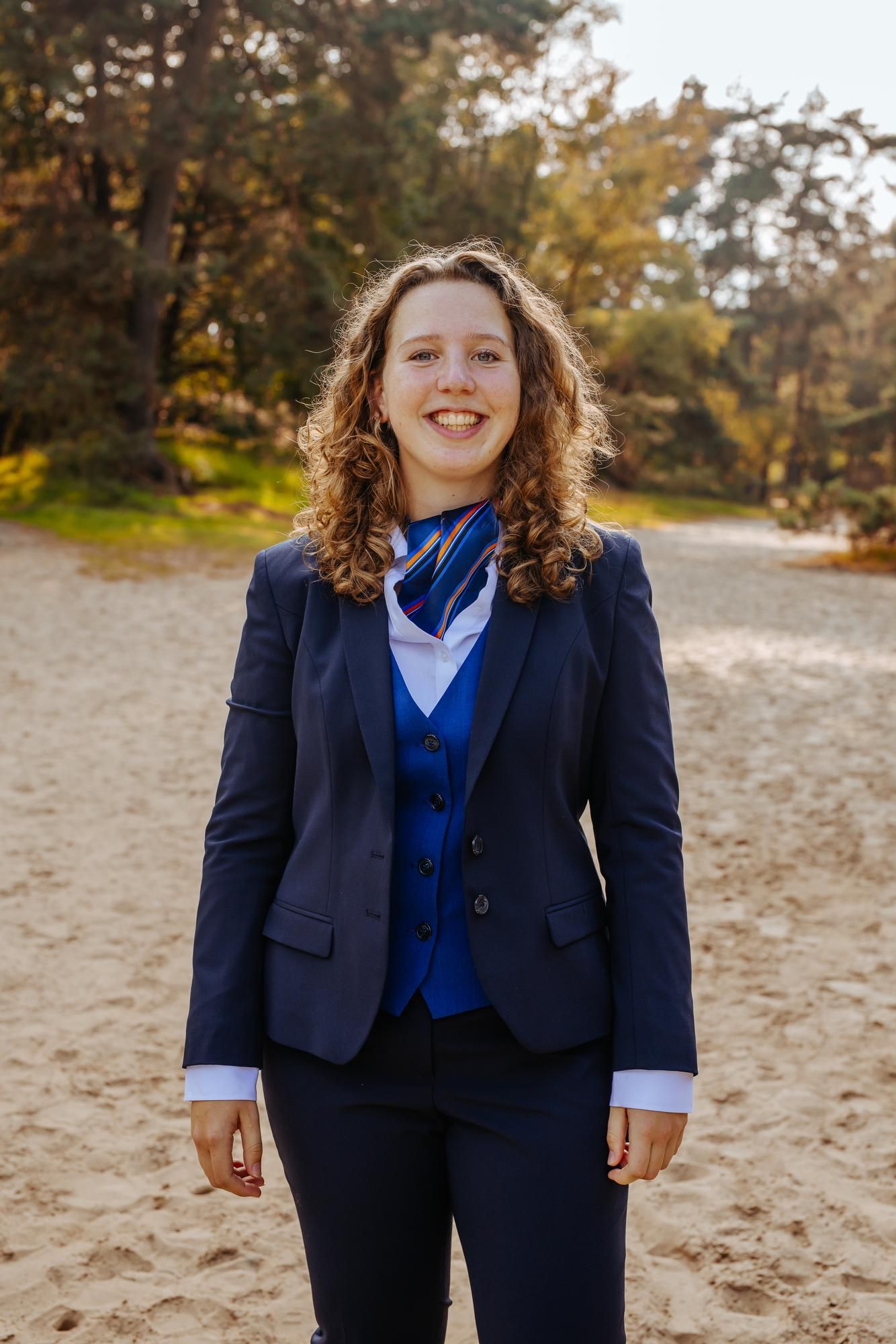 Mika Hoekstra
Commissioner of External Affairs, Vice-Treasurer and Commissioner of ICT
Hey everyone, my name is Mika and I am 20 years old. I was raised in Oldeholtpade, which is a small village in the south of Friesland, but I moved to Enschede when I started studying IEM here. This year, I pause my studies to be in the board of Stress. My primary function is Commissioner of External Affairs, which means that I will be in contact with a lot of companies to organise interesting events with them. Besides that, I am supporting Anne as Vice-Treasurer and I am the Commissioner of ICT.
I started being active at Stress in my first year, as member of the WeekendCie. This gave me the opportunity to get to know Stress and we organised some fun daytrips. In my second year, I wanted to be more challenged and organise something bigger, so I joined the KIDS committee. As most of my fellow board members, this committee made me so enthusiastic that I decided to apply for a board year.
In my spare time, I like to work on building some websites and have a good time with my friends. Besides that, I am a bit addicted to travelling, especially to countries in Eastern Europe. I am in do-group Toeter as well, with which I join exciting events every now and then. On Wednesday evening, you can find me in café De Vluchte with dispuut MSCS (and usually I cannot resist Café Friends afterwards as well), with who I have weekly drinks. I am really excited for this year and hope to see many of you at our events or in the Stress room!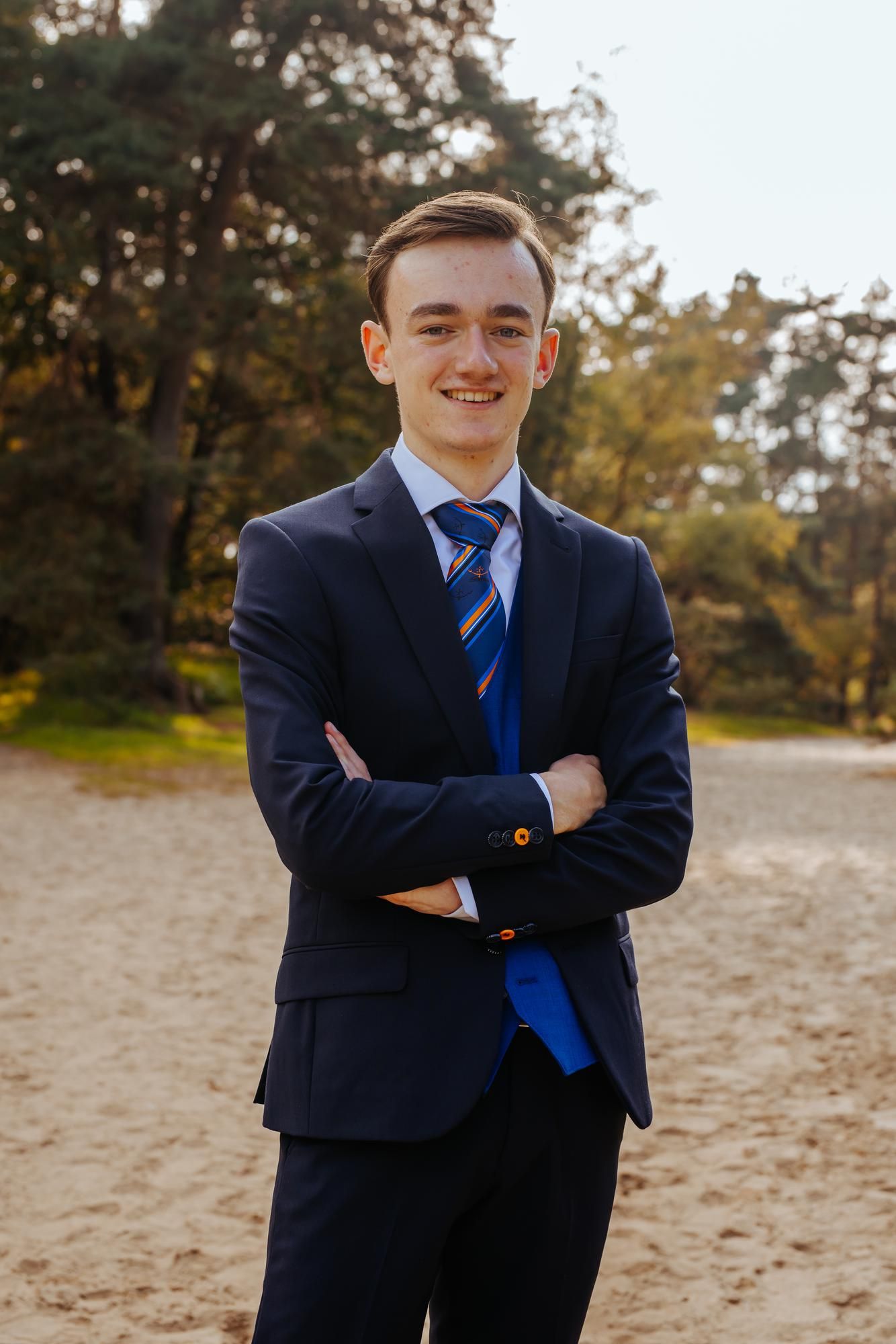 Karen Taselaar
Commissioner of Educational Affairs, Commissioner of Public Relations and Commissioner of International Affairs
international@stress.utwente.nl
Heyoo! My name is Karen and I am 19 years old. I was born and raised in Veenendaal, a village close to Wageningen. 2 years ago, I moved to Enschede to start my study of IBA here. I will take a gap year to do a board year at Stress! I am happy with both of my primary functions: Commissioner of Educational Affairs and Public Relations. This means that I am a contact point for anything study-related. I am in contact with teachers, programme coordinators and students to help improve our education. Next to that, I also oversee all promotional material and help in developing awesome merchandise!
Together with my now fellow board member, I started in the WeekendCie in my first year. Here I was the Marketing Officer to help our events be promoted in a good way. Although I loved this committee and had a great time there, I wanted to put more work into a committee and organize something bigger. In the end I joined the KIDS committee, which organizes the introduction camp of Stress, and became the chairman there. After a successful year, I applied for the 49th Board of Stress.
In my free time I like eating dinner and hanging out with my friends. I am a huge fan of music, so about 5 years ago I started a vinyl collection to which I listen weekly on my record player. This also means that at least once per month you can find me flicking through the new vinyl's in the stores here in Enschede! I am also a proud co-founder of the do-group MayDay who has 2 beautiful generations currently. I hope to see you at Stress a lot this year!